In an effort to ensure I am updating my neglected blog, I have decided to create a theme: Sunday's Best. If all goes according to plan, Sunday's Best posts will feature favorite products, videos, images, and anything else I may find during the week that I really enjoyed and want to share!
Although, I will be updating each week with Sunday's Best, I encourage you to send and share anything cool that you may have discovered during the week! I <3 sharing (especially cute cat pics and vids).

I have become enthralled with baking blogs and one blog that I really enjoy reading is Confessions of a Cookbook Queen. Her creations always looks delicious, but what I love most are the hilarious entries that Kristan combines with each recipe. They're hilarious!
Now for some favorite products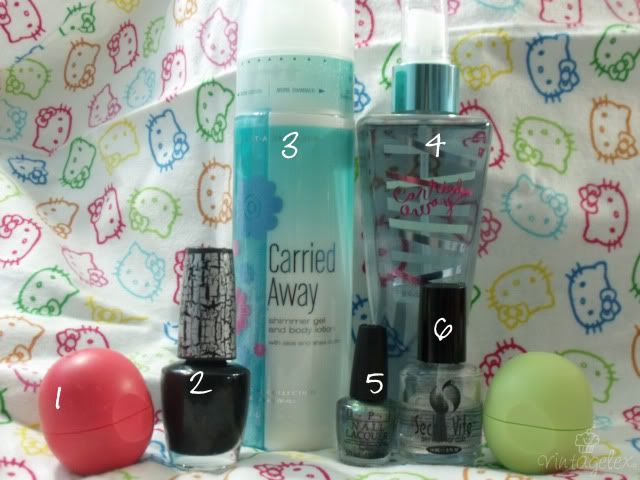 1. EOS lipbalms are the bomb! They smell great and glide across chapped lips easily! I have both
Summer Fruit
and
Honeydew
.
Summer Fruit
is by far the yummiest! It's like being seduced by mango and peach!
2. OPI's
Black Shatter
nail polish is a fun and fast way to spice up boring nails. Just one swipe on top of any color nail polish and you will magically watch the black "shatter" before your eyes!
3. Bath and Body Work's
Carried Away
shimmer lotion and gel. This is a must for all the glitter crack heads. SO SHIMMERY! What is amazing about this product is that you, as the user can select how much lotion and how much shimmer you want in each pump. The top part of the bottle rotates and allows you to pick if you want more lotion, or less glitter in each pump.
4. Bath and Body Work's
Carried Away
Spray. It smells floral and flirty, perfect for the Spring season.
5. OPI's Katy Perry collection
Not like the Movies
, I thought was going to hate this color but to my surprise it is very pretty and completely different from my other polishes! It relects light green and pale pink, from a first glance it can appear silver, but upon closer look you can see the beautiful mix of green and pink.
6. Lastly,
Seche Vite
topcoat is awesome. I know this top coat is expensive ($9) but it's totally worth it. It dries your nails in top speed and add a beautiful gloss to any polish.
Hope you enjoyed, until next week!