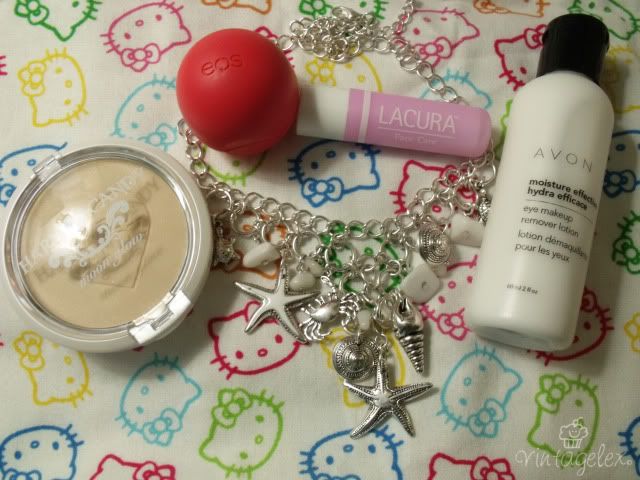 This weekend I indulged in more Hard Candy items. I picked up the Moon Glow highlighter which comes with the cutest hot pink, heart shaped sponge. Love it. As a sparkle fanatic, I am pretty satisfied with the highlighting effect of Moon Glow!
I bought Avon's makeup remover for about $1.99. It's the best makeup remover that glides on and removes makeup without leaving a greasy residue. I seem to fall back on this product quite often. I just can't seem to find anything that I like best. I also purchased Evolution of Smooth (EOS) lip balm in Summer Fruit, which smells phenomenal. It's like a mango, peach summer explosion. Must resist urge to eat lip balm, tasty-tasty!
I have to admit that I have a crush on a grocery store. I love
Aldi
. If you aren't familiar with Aldi, it is a small food store that has low prices and off-brand items. The food is delicious, not to mention cheap. I don't have an Aldi store close by so when I visit my sister, I always make a special trip to Aldi. For the makeup junkies, Aldi has a cosmetic brand, but I'm not too familiar with it aside from their
Lacura
lip balms. They have 3 different types: Sensitive, Milk & Honey and Pearl & Shine. The lip balms are fairly inexpensive for a pack of 3 ($1.49). To be honest the balms don't smell nor tasty too great, but they are ideal for moisturizing your lips which comes in handy in these harsh months.
My last splurge of the weekend (more like week) is a nautical necklace from
Charming Charlie
. This store has every accessory imaginable by color. It was an accessory and color overload.