My blogger friend,
Whitney
was sweet enough to send me a bath and body works gift card for my birthday! I was delighted to receive the gift but also thrilled to check out the new spring scents!
Thank you, Whitney! You gave me a good excuse to sniff around the store :)
I was almost out of hand soap so while at the store I picked up 3 foaming soaps, and 1 regular hand soap.
I wanted to try the newer Spring scents so I picked up the following soaps: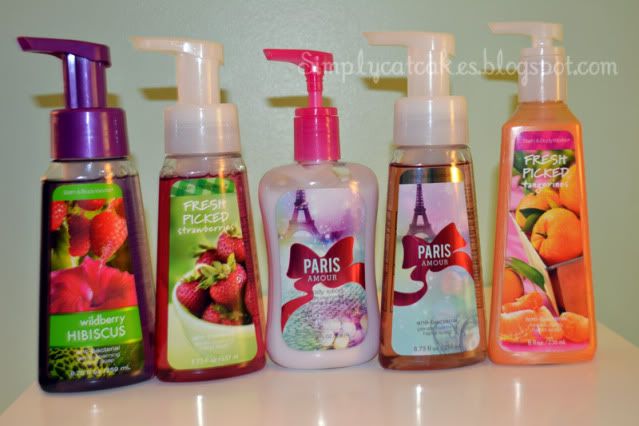 Wildberry hibiscus, fresh picked strawberries, paris amour, and fresh picked tangerines
My favorite purchase by far was the lotion pump that I added to my paris amour lotion. This makes lotion lathering soooo convenient. You can get just
the
right
amount of lotion. Your friends, family and boyfriends will thank you for purchasing a lotion pump. They will no longer be victim to your lotion left overs! Try the lotion pump, it's only $1.50!
Thank you, Whitney for your kind thoughts and gift! I absolutely appreciate it!