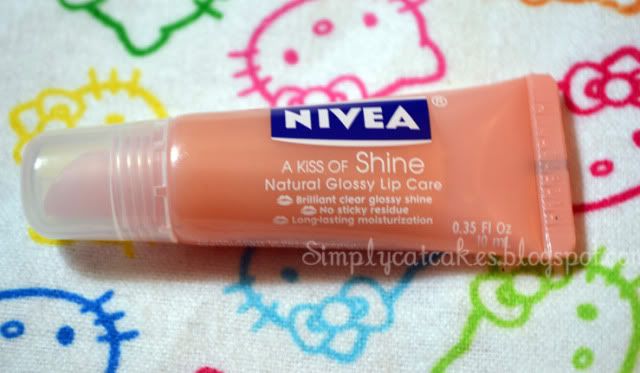 Did I ever share that I absolutely adore the dollar store? Now, when I say the dollar store...I mean the $1 store. I am not a fan of misleading dollar stores where everything inside is anything
but
$1 dollar. So while browing my local Dollar Tree, I came across Nivea's a kiss of shine lip gloss. Since, I am a big fan of their lip balm and lotion I decided to give the lip gloss a shot. It's
only
a dollar!
The packaging for a kiss of shine lip gloss claims the following:
glossy finish without sticky residue
long lasting moisturization
leaves lips smooth
Here's what noticed while using the product (note that I've only had the gloss for a few days!)
The Nivea gloss is a clear lipgloss that applies overall pretty light to the lips.
I can safely say that it certaintly is glossy! The gloss is not as sticky as other brands, which always wins bonus points for me. I am not a fan of super sticky glosses. It always feels like I dipped my lips in honey. Ugh!
I did notice that the Nivea gloss does have a fragrance. I can't pinpoint the scent, but it reminds me of a light floral smell. I think this is probably the only thing I don't like about the Nivea lipgloss. I prefer to keep flowers away from my mouth, thank you!
I also noticed that the gloss is indeed long lasting. Meaning, it is pretty resiliant to snacking, speaking and your daily wear and tear.
Lastly, I enjoyed the size of the Nivea's a kiss of shine lipgloss. It fits perfectly in my hand! It's on the small size, so it is perfect for travel.
Overall, I did enjoy using this lipgloss. I purchased it for $1 so this was a win-win. If I were to purchase this again, I would totally consider buying a different scent (too bad Dollar Tree didn't have any other scents!)
**I purchased this item with my own money. I am not endorsed by any company!**