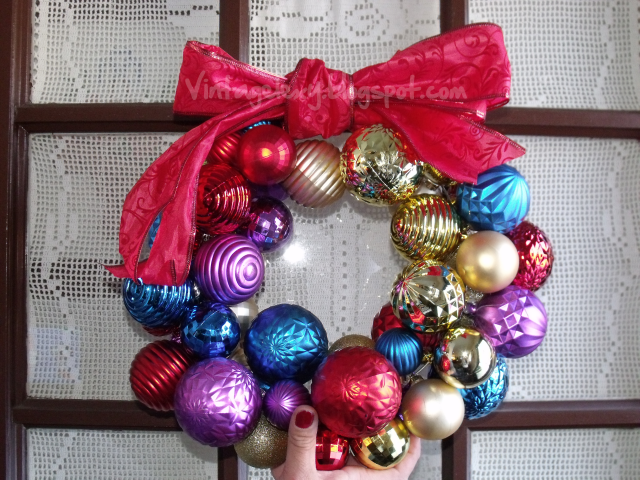 We don't have a big hook on the door to hang the wreath, please disregard my sister's hand
I loved creating this craft so much, that I don't even mind I'm one holiday too late. I got the idea while stumbling upon a
craft blog.
It was so beautiful and easy, that I couldn't pass it up!
All you need for this craft:

-wire clothes hanger

-plastic/glass ornaments

-ribbon

-hot glue gun & glue sticks

Estimated cost: $10 (This all depends on how much you pay for ornaments)

To create this beautiful wreath you need to bend the wire hanger into an "O" Shape. Next hot glue the tops to all of your ornaments. The next step is simple, slip in your ornaments! You may need a variety of sizes to fill in the gaps.

The last step in this craft is just closing the wire hanger, adding a bow and hanging it on your door.

I made this wreath for my sister and she loved it. It's a simple craft, fairly cheap in supplies and takes absolutely no skill!

I would recommend plastic ornaments because if your wreath falls....there goes all your work, money and effort. Lastly, a great place to look for cheap ornaments are thrift stores, eBay, discounted stores like Big Lots, and your own holiday stash. You can always get good deals at the beginning of the holiday season and after the season too!

Enjoy!!

*I am not paid to advertise any company or store. As usual everything was purchased by my sexy wallet*