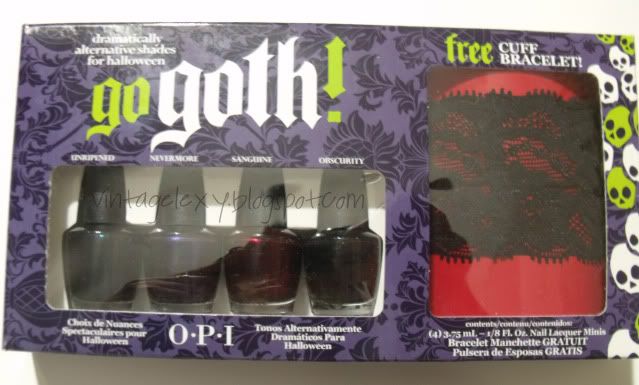 I have been converted into a huge OPI mini collection fan. I love that I can try out a handful of the new or special edition colors for less than the cost of 2 polishes! As soon as I saw the this Halloween set, I knew I had to try out Sanguine as soon as possible!
Lucky for me, this cute set came with a lacy wrist cuff, it's cute but rather random! The color selection is dark (would expect anything else, from a collection with the word goth?) In this little collection there is a matte black, dark burgundy, sparkly purple and a black with blue glitter.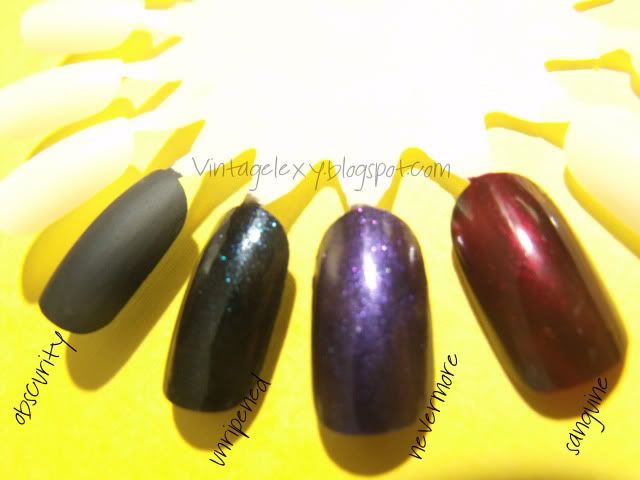 I really enjoy this set of from OPI because it has a good variety, but also some unique colors. I don't own a billion OPI colors, but judging from the other mini collections this one offers more range. I've noticed OPI always includes a red-red nail polish and it always looks so generic and boring. This set includes a red but it's dark and unique. I don't own anything like it (I think Sally Hansen just release a polish like this!). I also love that it doesn't include a top coat polish. Gosh, I hate that in mini collections. This collection offers 4 colors for about $12 dollars. Not bad.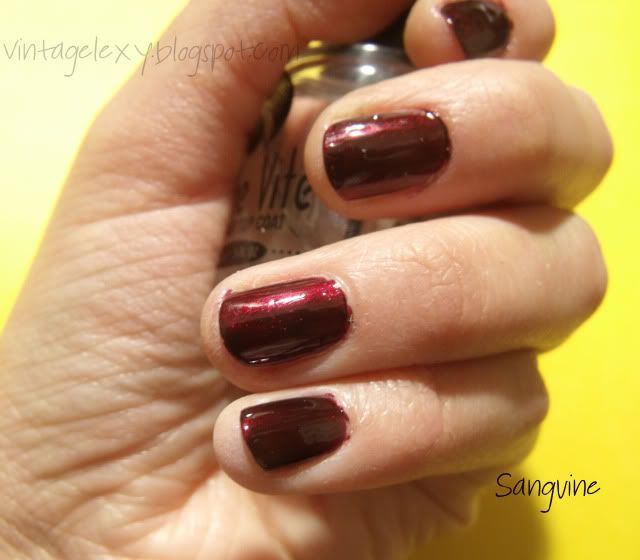 I slapped this polish on fast, please ignore mistakes
!
Sanguine is a dark, burnt burgundy with shimmery red speckles. It seems dark from a distance but bright bloody red when near. I <3 this polish! I wish they had the full size!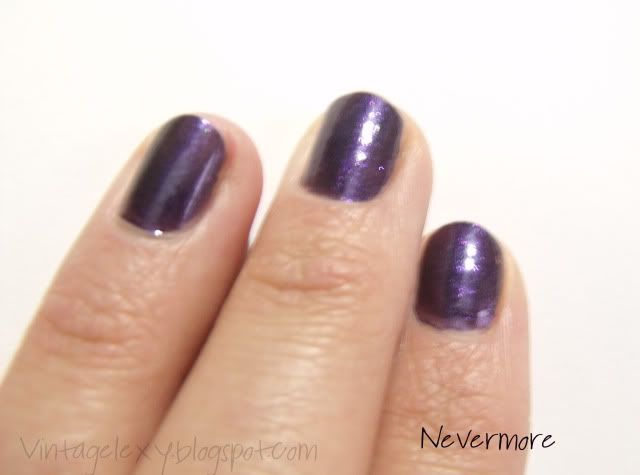 Nevermore is more generic. If you own OPI Ink, this is similar. I wouldn't jump out of my seat to buy this polish, but it's still a good color if you don't own anything like it.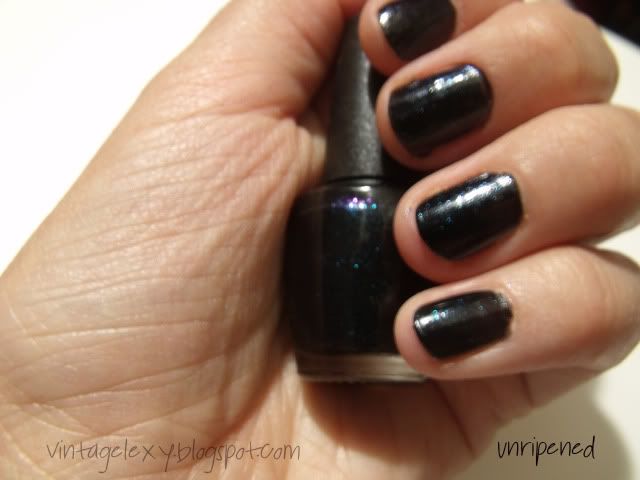 Unripened was by far the worst color to capture on camera. It's black with blue sparkly bits. I enjoy it because it looks black from a distance, but surprise - it's not! It's a good color for fall.
Unfortunately, I did not get a chance to try Obscurity out, but I'm not into mattes! You can see a sample of this polish on my first image.
Overall, I'm quite content with this Halloween release. I like the range in colors and the fact that they included 4 polishes in this mini set. Typically, they include 3 polishes and 1 top coat, which in my opinion sucks! Also, I'm not sure why they thought a wrist cuff was a good idea for the collection. I'm not a marketing genius, but I don't think OPI's consumers were begging for the wrist cuff! How about you charge us less for the mini collection next time? That would make us all happy :)