Ever since Hard Candy, the cosmetic brand, became available at Walmart I have wanted to try it for myself. Unfortunately my local store does not carry it so I had to go to a completely different state to get my hands on this brand. I know what you're thinking, wow...she drove to a different state just for makeup? No, I just happened to see it while I was out of town. I'm not that bad!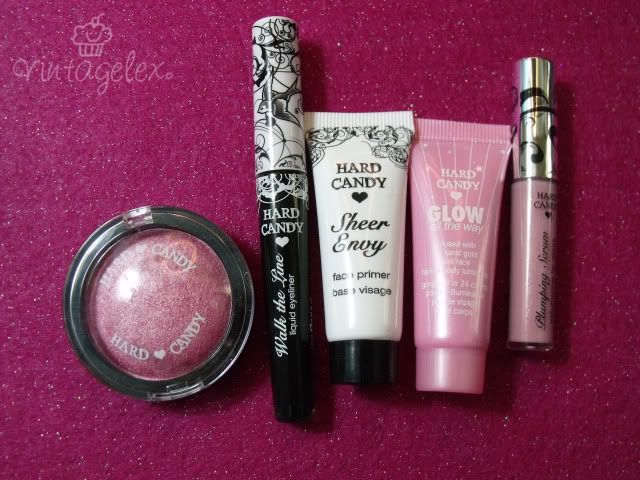 I purchased 2 items from the Hard Candy line. The First Crush mini set ($8) which includes all of the above minus the black eyeliner. The set came with a baked blush, a foundation primer, a highlighter and a plumping gloss.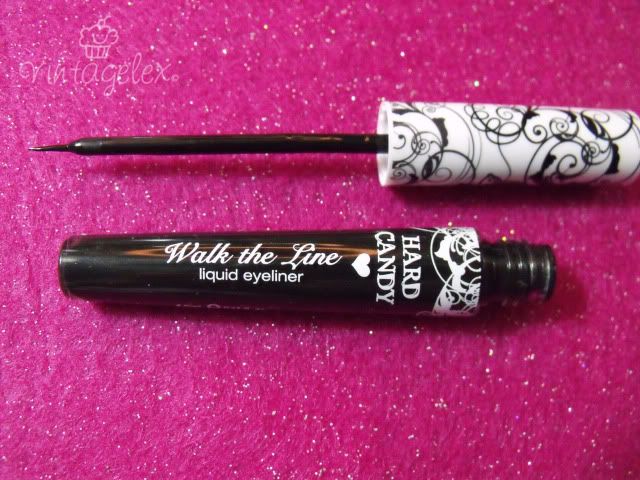 I also purchased Walk the Line black eyeliner ($8). Which has a thin brush applicator.
I found the mini set to be a decent price, however everything else at the store was outrageously expensive for a drugstore brand! The packaging is plastic but the brand does incorporate some cute designs on the actual product. As I had heard before, the packaging for Hard Candy is really cheap, and I felt this was the case on the blush. It is made out of the cheapest quality of plastic. Do you remember the first set of "pretend" makeup you received as a young girl? Remember that cheap feeling plastic that cracked the first time you dropped it? That is what the Hard Candy blush feels like! I know my blush is the mini version, but I did hold the full size and it was the same quality plastic!
I plan to do a review on these products, but this post is to share my recent shopping treasures!
If you've tried the brand let me know what you think!