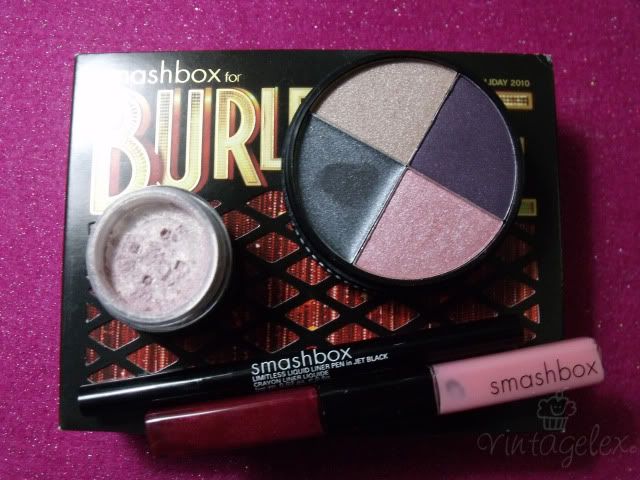 Sometimes I feel Confessions of the Shopaholic is loosely based on my life. Friends, I've been so good at not shopping 'til I drop, but recently I have fallen off the wagon. It all started when I walked into Ulta. I must enjoy torturing myself otherwise, I would not have gone into that store, but I had a 20% off coupon! I just had to use it! It would go to waste, so why not use it? Talking myself into purchases is a piece of cake!
I caught my eyes on the Smashbox Burlesque box kit. I liked that it featured full size products for a moderate price ($35) plus the eyeshadow colors were cute.
The kit came with:
Limitless liquid eyeliner pen in jet black
Shadow & liner quad in risque
Loose shimmer in burlesque
Double ended lip gloss in peep/show
My favorite item from the kit is the double ended lip gloss, the red is pretty sheer and looks more cherry than anything! Loooove it!
I also purchased my favorite concealer which is Smashbox's High Definition Liquid Concealer in fair/light ($18).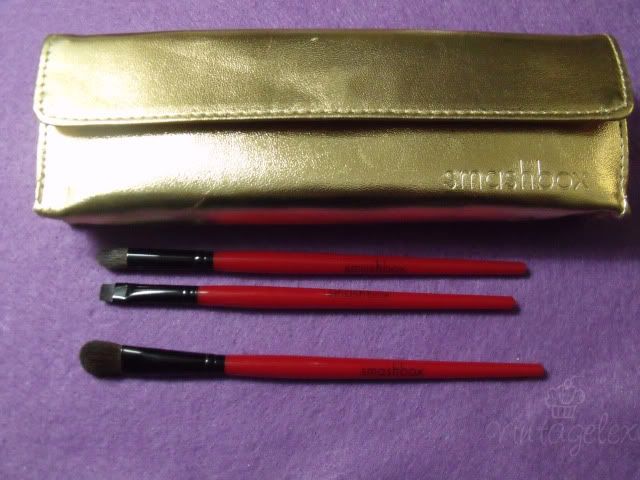 Luckily, all Smashbox purchases came with this handy Smashbox travel brush set. The set includes a flat eyeliner brush, crease and a regular eye brush. What I love most about the travel set is that it's a regular size. It isn't tiny! The cute golden clutch is also ideal for traveling with makeup brushes, it keeps them safe from getting all mangled and destroyed.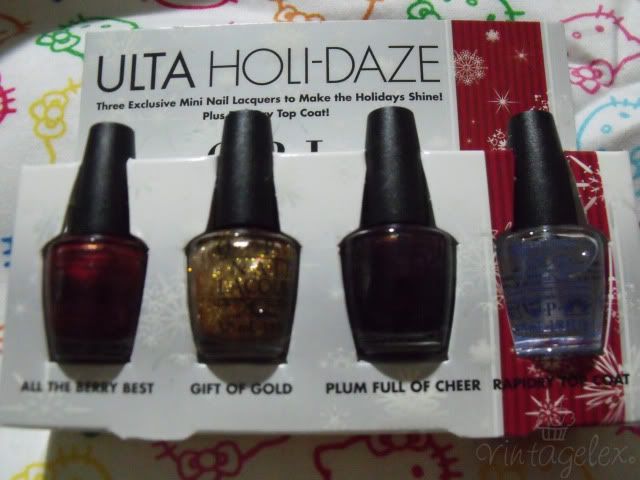 I looooove mini OPI sets. As a glitter addict I knew I had to own this set.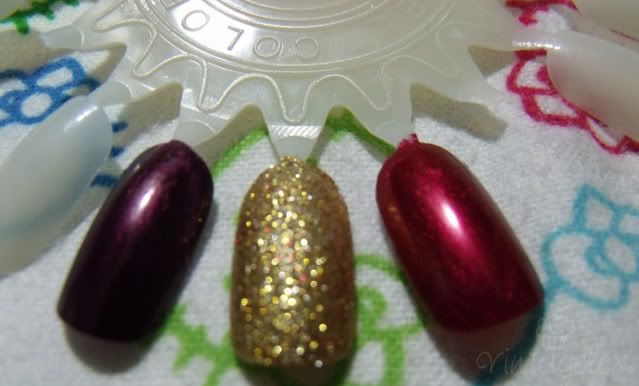 The 3 polishes from left to right are: Plum full of cheer, gift of gold, and all the berry best. It also came with a rapid dry top coat
My favorite polish was the gold glittery one called Gift of Gold. It looks super cute but the downfall is that it is extremely chunky. This unfortunately makes your polish chip easily, even with a top coat!
This concludes my latest shopping confession!