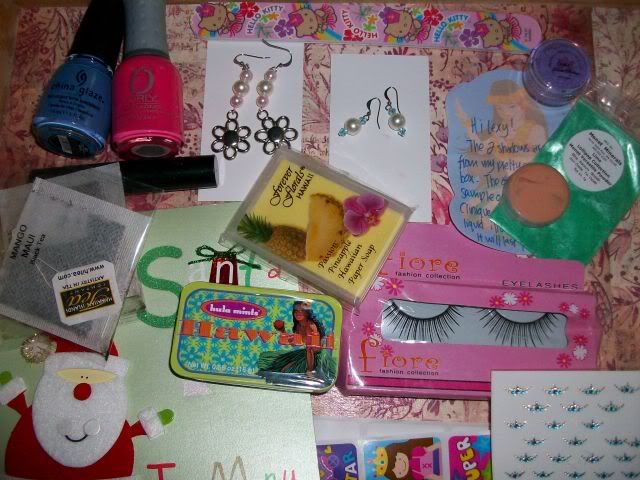 I contacted April last week about exchanging holiday cards. Little did we both know we were actually swapping holiday goodies! We were both really sneaky and neglected to inform each other about the goodies. hehe. It's funny because we both did the same sneaky thing, and we both received our goodies on the same day!

To my surprise April sent me a few items from her recent trip to Hawaii. I'm so thankful and shocked that she remembered me! I received Hawain teas, mints, paper soap and an adorable hula hello kitty nail file. In addition, April was kind enough to send me a few added extras. You can see them pictured above. My most favorite thing that I received were handmade earrings from April. They are soooo cute! I appreciate and love anything handmade. However, these earrings are totally my style.

April is the sweetest girl on Youtube. I always look forward to watching her videos. She makes various videos on beauty items, reviews, hauls and much more. I <3 April.

Thank you for everything April, I truly appreciate the gifts and your friendship!