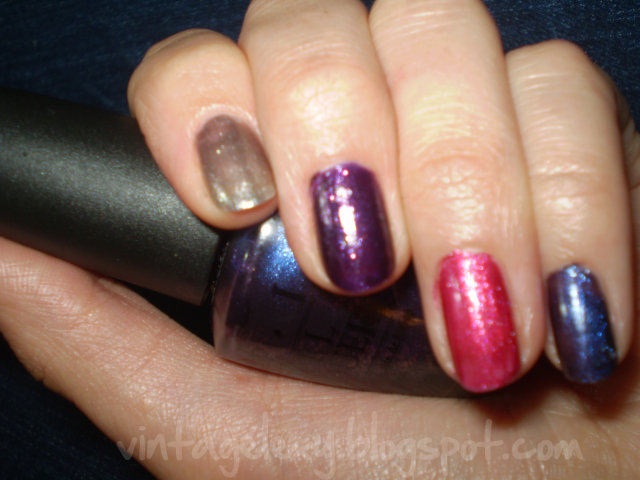 Occasionally Ulta has these amazing OPI nail polish deals. About a few weeks ago they had a 4 tiny nail polish set for $5 dollars! ^.^ hooray for good deals!! The nail polish bottles are extremely tiny but for $5 dollars it's a great bargain. It's a good way to try out a few colors and to also explore OPI nail polishes. Check
this blog
for pic of the bottles.
The set comes with:
Berried in Gifts
- deep sparkly violet, it's closer to red than blue
Amethyst Twist
- a berry sparkly red
Silver Belles
- sparkly silver
Rapidry Top Coat
- it's a top coat!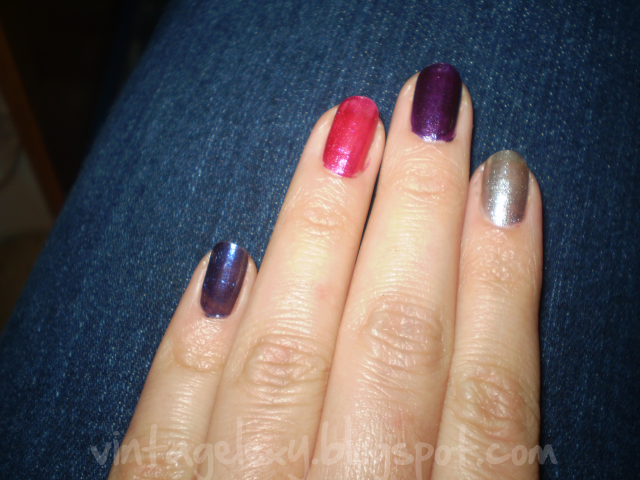 I know, I have 4 nails painted but there are only 3 different colors in the set. My pinky nail is actualy painted with "OPI Ink" it's a deep blue purple. It's very similar to Berried in Gifts but you can see the difference.
Overall, I am slightly disappointed in this nail polish set. I don't mind the sizes of the bottles but I do mind the quality of the nail polish. Each color has waaaaay too much sparkle. In my opinion all the sparkle makes the nail polish chip more easily. The Rapidry top coat works at drying fast, but it fails at prevent chipping. I'm also not entirely thrilled with these 3 colors from OPI. This is a holiday set...and I really don't find anything about this set special. Wait, I change my mind. The price is the only special factor.
I give it a
1.5/5
. There is nothing really unique about this product aside from the size and price.
Disclaimer
: I Purchased this item with my own money. This is my personal honest opinion. I am not paid to write anything, I'm just a girl who enjoys blabbing about makeup. Yah-know, good times.