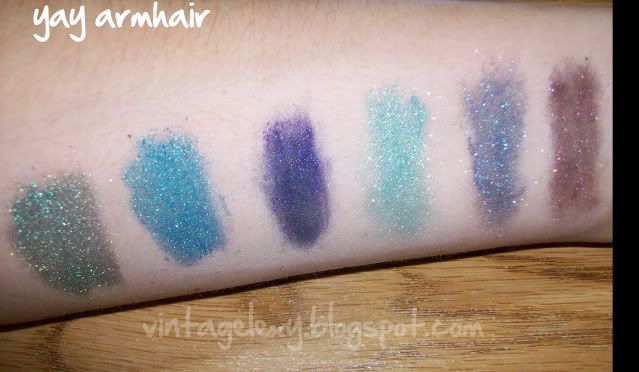 Swatched on top of ELF's mineral eyeshadow primer
(Pegasus, Illusion, Big Ego, G. Kelley, Blacklisted, Hitchcock)
ZOMG! BFTE (or Beauty from the Earth) was having an awesome 30% off sale on black Friday. Natually, I jumped at the chance. I had previously bought some shadows from them and truly liked them. So, why not get some more? The sale was amazing! Not only was it 30% off but free shipping with $30 dollar orders and a free full size eyeshadow with each purchase!!!!!!
I was so excited I wanted my makeup, right there and then! Luckily, the owner was super kind and mailed everything out super fast. I opened my package like a makeup hungry little girl. Once I saw my beautiful eyeshadows, I was in mineral shadow heaven.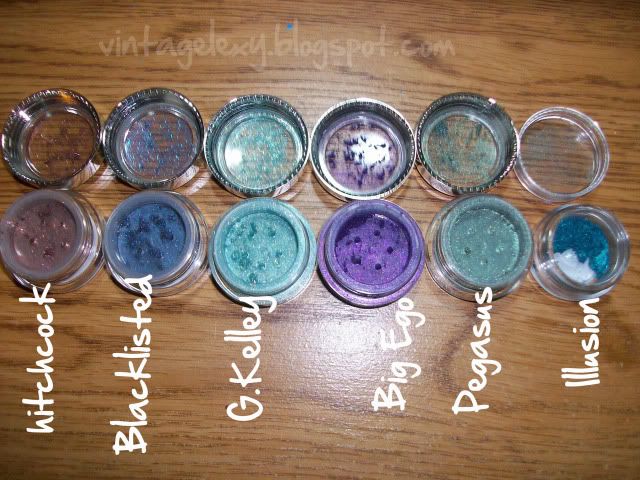 As you can see, the colors are gorgeous. The first 3 shadows are part of the new holiday collection. Pegasus was my free random shadow :D

I am head over heels for Blacklisted. It's a beautiful blue-purple. It's sparkley and not dark at all! I'm also very keen on Big Ego. I'm a sucker for purples but it really reminds me of Grape which is also from BFTE.

Hope these descriptions make sense:

Whimsey - (not pictured because of my stupidity) True, toasted golden amber color

Blacklisted - A mixed blue grape color with lighter blue sparkles

Big Ego - A dark grape hue, a blend of purple and crimson

Pegasus - A light olive green with a itsy bitsy blue tint

G.Kelley - Light tealish/olive greenish with golden reflects

Hitchcock - A light sparkly cinnamon with a reddish tone.

Illusion - Beautiful dark teal with light blue/green reflects

P.S. I just realized I forgot to include a shadow I purchased. It fell from the baggie that held all my shadows....poor baby. I totally neglected it!
Whimsey
Disclaimer:
I am not affiliated with BFTE. I was not paid to write this blog post, I do it out of my own free will. Also, I purchased these items with my own money. Everything mentioned was my honest thoughts and opinion.