My first makeup contest ever! woot-woot! The theme is vampires. It can be any vampire from a book, movie, tv show, song, anime, video game or photograph. As long as it's a vampire, I'm happy. I don't expect fangs, props or you looking like a ghost (unless you want to). I am not looking for a step-by-step tutorial. I just want you to show me a look based on your inspiration and you talk briefly about it. It's not hard!

I don't think anyone on YT knows of my vampire obsession, but it dates back when I was wee girl. It started with my mom watching a vampire soap opera (lol yes that existed before Twilight) Since then I have always been fascinated with vampires. I really got into them late middle school/early high school. That is when I fell in love with Lestat.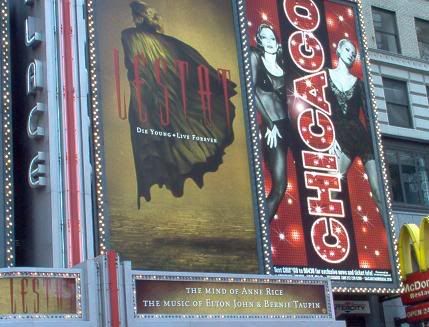 It's Lestat...the musical. I really wanted to see it. Instead I just took this photo of the ad. So lame!!
Rules:

-Be a subby

-Your video title has to include my username

-Be 18 or older (or have permission)

**THIS IS INTERNATIONAL TOO**

What I'm looking for:

- Your vampire inspiration (include in video or sidebar)

- 2 or 3 photos of your finish makeup look

- At least one minute of video explaining your inspiration, makeup, and anything else.

- Creativity

- Please include a list of items used on the side or have a pic in your video.

Winners:

Will be chosen within a week of the contest ending.

I will mail your prize within 1 week of announcing the winner.

Photos will be placed on my blog too :D

I just want you to have fun...everything should be easy to follow.

I look forward to getting your videos.