As much as I love Ivy in SC 3, it was hard to come up with an interesting makeup look based off SC3. Her costume is pretty bland (the color)...plus I've done Ivy already...so drawing inspiration again, was hard!
While we are on the topic of Ivy and her costume...we might as well just get on with it. Her boobs are INSANE! I know they are meant to be off-the-wall crazy, but...they are bigger than her head in SC4! Not only are they bigger than her head, but they are being cut with a tiny ribbon of fabric. I know this is suppose to appeal to men, but come on...there are plenty of other ways to do that without making a total mockery of breasts and Ivy herself.
Do you like the evolution?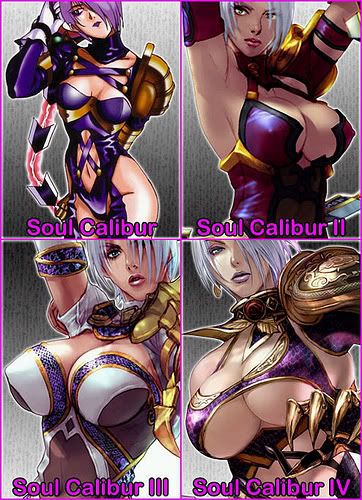 found this on Flikr..can't remember where
I know, I just made you look at a video game character's boobs. Sorry, at least in this blog the content never gets old. haha.
What I used:

TF shadow insurance

Nyx eyeshadow stick white

Nyx ultra peal mania true pearl

Elf eyeshadow golden

Bare Minerals 1990's

Mac blush on a mission

Nyx lipstick B52

Revlon color stay liquid eyeliner black

Lashes