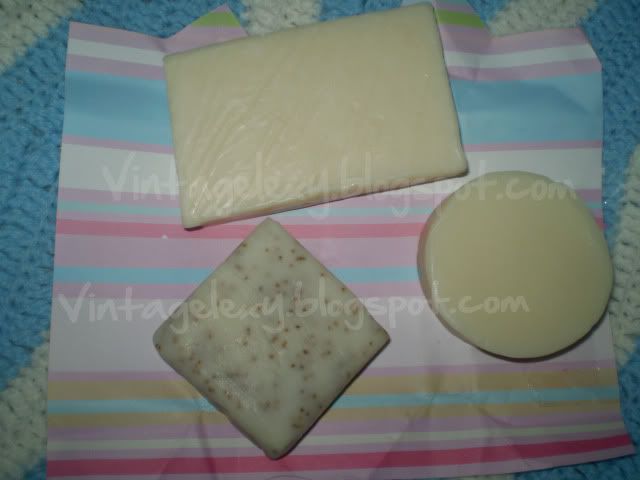 Almond Honey Exfoliating bar, Almond Honey bar, and Fresh Scent soap bar
Holy Smokes Batman! It's soap! My friend
Ashley
on YouTube has decided to make soap from scratch. I'm very proud of her for taking on this task. I think it's so neat to know someone that makes their own soap. I've become a little obsessed with soaps so when Ashley sent me a few of her soaps to try out, I was thrilled. I like the comfort of knowing that a lot of time and love were devoted to my soap. It makes it personal and more special.
Ashley is new to this but If I didn't know that, I would've assumed she has been making soap for a while. All of the soaps came wrapped in stylish paper or tissue paper. They were wrapped twice! Once in wax paper and also wrapped once in the stylish paper. Ashley placed a lot of love into the wrappings of the soaps. She even included little tiny charms she made a cupcake and an ice cream cone.
The soaps vary in size but the smaller one is a good size soap to take into the shower. I fell in love with Almond Honey because it's a good blend of sweetness. The scent is very soft and not over powering. This perfect for the milk & honey scent addicts. I am one of those addicts :D
The other scent I received was Fresh Scent soap. This soap is ideal for people that hate fragrances or don't like to smell like soap. Although there is a tiny scent to this soap bar, it's so light that I STILL can't properly identify the scent. I would describe this scent as very light. I can almost smell a little bit of cucumber (but not really). Great for people that don't want to smell like a combination of scents.
Although Ashley is not selling her soaps at the moment, she is offering her services (you would just need to pay for a flat rate box). If you are interested in trying hand-made soap, check out Ashley.
Ashley's YT Channel
Overall, the soaps smell great. My fave scent is the Almond Honey. I haven't had a chance to try to them out but I am looking forward to it. <3
Thank You, Ashley for being kind enough to send me some soap! I know it takes a lot of time and devotion and I'm very thankful for everything. I hope you sell these soon!